I

t's been quieter around here lately.

I'm saying less in other places, too. In

Real

life places and social media places.

The quiet doesn't mean there's less going on in my life. In fact, it's quiet the opposite.

My soul is awakening.

The hollow that I didn't realize existed is clanging loud from the stirring that is happening in my heart.

Like a deep, wide, cavernous bowl. My insides are a noisy place.

A death is happening. Of self.

The

Me

I have protected and crafted an idol is being reduced.

I am s l o w l y yielding to His will. Slower still, giving up the fight.

"This refining is a process. You can't hurry the holy."

I read these words and marvel at the truth.

I tear up over the wrestle I've lived of wanting to get past the now.

And I run into His arms with willingness to stay

here,

where His love for me is so much clearer than it ever was before.

"When we choose to go . . . [to Him] . . . we will eventually find ourselves stripped, naked before the Lord as we were intended to be . . . there is no shortcut . . . only the steady, trembling descent into the valley."

And I see it more clearly than I ever have before.

Love.

Pure. True. Full., is His love for me.

"The renewal comes through the wringing out of the soul, through the pulling and dragging out of the ugly, through the sacrifice . . .
first, there's the dying that must be endured."

My confession has been long awaited. For me to bare it all.

The ugliness. The idols.

All

of that which I love so much more than Him.

I see so much more. And it gushes out of me,

truth of who I have made myself to be and all of what I've made this life to be.

The image I have adored for so long shatters.

I want to hide and cover and shirk in shame.

But . . .

"Sometimes bravery looks more like surrender."

And I ask,

Is this true? Can it really be? Might I truly be considered courageous

here

? In the surrender? Can I really declare this as Truth? "By loving the filth right out of our hearts, He draws us close and when we release, when we lay low, we can finally hear His heartbeat."

This opens my eyes.

It's not about my inabilities, or weakness, or failing . . . it's His grace.

This tumbling out of filth is grace. I need not be scared.

I am overwhelmed at this truth -- All. Is. For. Purpose.

All.

As in

every.

thing.

Every situation.

Every moment.

Every mistake.

Every fear.

Every doubt.

Every. Thing.


All.

This is huge.

"Through the scalding, we become renewed . . . we become healthier, holier, a little bit more like Christ and a lot less like us."

I'm here. In this place where death has a stench so potent it makes me want to vomit.

And I am willing.

Reduce me, Lord. Reduce me to Love.

I devoured her words with a hunger to be ever closer to Wholeness,
and I keep going back to them these days,
sipping the truth and steeping in the richness of life that death to self has to offer.
He percolates willingness in us to really begin to *see* the depths of His love;
to go there really is transforming and awe-embarking.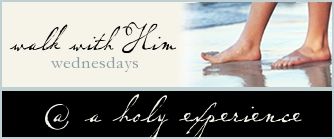 Share your heart . . . add a comment below.
_______________________________________________